Posted on: Aug 31, 2022 10:46:47 AM
Polly Expands its Local Agent Presence with Acquisition of New York-Based Brinckerhoff & Neuville Insurance Group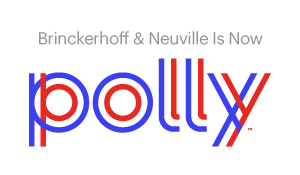 BURLINGTON, VT (August 31, 2022) – Polly (formerly known as DealerPolicy), the leading insurance marketplace for automotive retail, today announced its continued expansion into the independent agency channel with the acquisition of Brinckerhoff & Neuville Insurance Group, a well-established agency in New York that services local customers through long term relationships in its referral-based business.

"This acquisition expands our network of resident agents allowing us to provide customers who own several personal assets, such as homes, boats, RV's, etc. with the local knowledge they need to get the best value, coverage and service possible," said Travis Fitzgerald, CEO and co-founder of Polly. "Our customers have long been able to enjoy the benefits of our best-in-class technology paired with a marketplace of major insurance carriers. They now have the advantage of also having a trusted local agent to advocate on their behalf. It's the unique combination of technology, choice, and knowledgeable agents that makes us the absolute best option for consumers."

Founded in 1961, Brinckerhoff & Neuville Insurance Group has provided comprehensive insurance solutions for personal and business needs as a local, independent insurance agency. With experienced, onsite agents, the referral-based business is built on exceeding expectations with customer service and competitive pricing.

The acquisition is part of Polly's broader long-term commitment to strengthen its local presence by building a robust, independent agent network, nationwide. The agency's Fishkill, New York location is Polly's second retail storefront, with plans to establish up to 25 additional local agents in other states by the end of 2023. B&N is now operating as Polly, and all Brinckerhoff & Neuville employees have joined the Polly team, with several already securing career advancement opportunities within the company.
"For more than 50 years, we've worked with local customers to protect what matters most to them," said Steve Pogge, previous owner of Brinckerhoff & Neuville, and now General Manager of the New York office. "I am proud of the service we've provided and thrilled about the opportunity to expand those opportunities with Polly."

For more information on Polly, visit polly.co.

About Polly
Polly is the most trusted and complete digital insurance marketplace for automotive retailers and their valued customers. The company's innovative mobile technology enables car-buyers to view multiple insurance quotes and immediately purchase online and/or connect with licensed insurance agents to complete the process. With an exclusive combination of partnerships among premier automotive retailers and data providers, an industry-best insurance carrier network, and access to Polly Insurance licensed agents, Polly is recognized for its place at the forefront of Insurtech. Polly Insurance is a licensed insurance agency, with licenses to operate in the lower 48 states. For more information, visit www.polly.co.
Media Contact
Katie Morrow
Senior Director, Dealer and Partner Marketing
Polly
802-316-4774
kmorrow@polly.co