Posted on: Sep 30, 2022 1:03:02 PM
As Retail Automotive Changes, So Does Insurance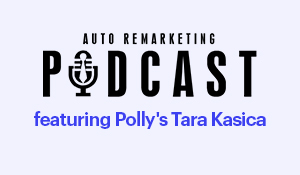 Tara Kasica, Polly's senior vice president of sales, recently joined Joe Overby, Auto Remarketing's Senior Editor, on the Auto Remarketing podcast, where they discussed how embedded insurance benefits both dealers and car buyers. Topics include the unique role and value of embedded insurance in the car-buying process, how embedded insurance can lead to higher margins for dealers and deeper savings for car buyers, and how changes in car ownership models impact the insurance space. Tara and Joe also dove into the latest innovations at Polly, including our recent brick and mortar expansion into local communities as well as product integrations with CRM, chat, and F&I.
Tara was recognized earlier this year as an honoree in the 2022 class of Women in Retail, presented by Auto Remarketing. Tara has operated at the crossroads of personal lines insurance and automotive retail for almost 25 years. Prior to Polly, she was responsible for overseeing countrywide deployment, production, retention, and growth of dealership owned insurance agencies at Allstate.

The Auto Remarketing Podcast features weekly interviews with industry execs, innovators and visionaries exploring their work, their thoughts, their predictions and more. It's a quick and easy way to keep up with the latest trends in auto.