August 3, 2023
Embedded Auto Insurance Defined: What It Is and How It Benefits Consumers, Dealers, and Insurance Carriers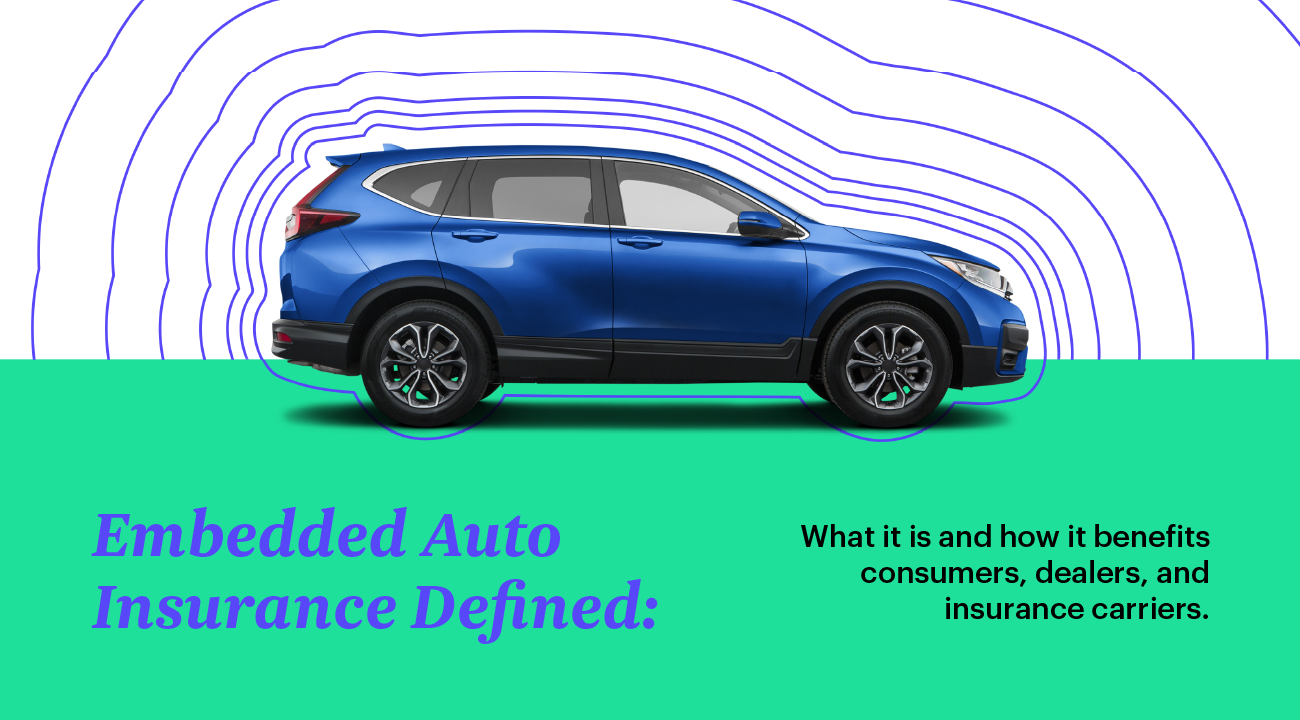 Insurance is a necessary yet often complicated aspect of owning a vehicle. However, a new approach known as embedded auto insurance is revolutionizing the way consumers, dealers, and insurance carriers engage with insurance products. By seamlessly integrating insurance offerings into the purchasing process, embedded auto insurance provides a range of benefits for all parties involved. In this article, we will explore what embedded auto insurance is, how it works, and the advantages it brings to consumers, dealerships, and insurance carriers.
UNDERSTANDING EMBEDDED AUTO INSURANCE
Embedded auto insurance refers to the practice of incorporating insurance into the transaction of purchasing a vehicle or related services. By using digital technology to streamline the insurance buying process, car buyers can conveniently purchase insurance coverage during the point of sale or within their payment portals. This eliminates the need for customers to seek out separate insurance agents or engage with additional parties.
BENEFITS FOR CONSUMERS
Streamlined Experience: Embedded auto insurance simplifies the insurance buying process for customers. They can purchase insurance policies seamlessly during the vehicle purchase journey or through their preferred digital platforms, eliminating the need for extensive paperwork or involving multiple intermediaries. This streamlined experience saves customers valuable time and reduces the hassle associated with shopping for insurance.
Timely Protection: Embedded auto insurance ensures that customers have insurance coverage at the moment they need it most – when purchasing a new vehicle. As auto insurance is a legal requirement in most states, embedded insurance offers customers the opportunity to secure a policy precisely when they acquire their vehicle, providing peace of mind and ensuring compliance with regulations.
Potential Cost Savings: Embedded auto insurance programs often provide customers with opportunities for financial savings. Through bundled discounts, access to better rates, or exposure to more affordable options, customers can benefit from cost-effective insurance coverage. This added value enhances the overall purchasing experience and strengthens customer loyalty.
Enhanced Peace of Mind: By including insurance coverage in the vehicle sale, embedded auto insurance offers customers immediate protection for their purchase. This peace of mind enables customers to have confidence in their investment, knowing that their vehicle is safeguarded from potential risks and damages.
BENEFITS FOR DEALERSHIPS
Value Addition: Embedded auto insurance allows dealerships to enhance their offerings and differentiate themselves from competitors. By incorporating insurance products into their sales process, dealerships can provide customers with a streamlined experience that includes not only the vehicle but also the necessary insurance coverage from a licensed agency. This value addition strengthens a dealership's value proposition and attracts customers seeking a hassle-free buying experience.
Increased Customer Loyalty: By integrating embedded auto insurance, dealerships can enhance the overall customer experience and build stronger relationships with their clients. Seamless insurance buying, ongoing touchpoints, and tailored insurance solutions contribute to improved customer satisfaction and loyalty. A positive buying experience fosters repeat business and positive word-of-mouth recommendations, ultimately benefiting the dealership's reputation and revenue.
Additional Revenue Streams: Embedded auto insurance programs offer licensed dealerships an opportunity to generate income through insurance renewal commissions. These revenue streams can contribute to the dealership's financial growth and stability, bolstering profitability in the long run.
F&I Lift: Embedded auto insurance programs have a proven track record of lifting F&I gross*. As the most important indicator of F&I performance, dealers who have an embedded auto insurance program have another very effective lever to pull to increase profits.
BENEFITS FOR INSURANCE CARRIERS
Expanded Customer Reach: Embedded auto insurance partnerships provide insurance carriers access to new markets and customer segments they may not have reached through traditional acquisition channels. By collaborating with embedded insurance platforms, carriers can tap into a broader customer base and increase their market penetration.
Improved Customer Experience: By reducing the focus on acquisition efforts, embedded auto insurance allows insurance carriers to allocate more resources towards improving the overall customer experience. This emphasis on customer satisfaction and engagement fosters stronger relationships and encourages customer loyalty.
Cost and Efficiency Advantages: Embedded auto insurance provides carriers with greater efficiencies at scale, making it more advantageous than traditional partnerships. Traditional insurance models involve high customer acquisition costs and intensive underwriting processes. However, the sheer volume of policies that can be underwritten and distributed through embedded partnerships significantly reduces these costs and inefficiencies. Moreover, the scale of a mature embedded insurance partner often leads to more robust internal training programs, allowing for continual learning, enhancing employees' skillsets and knowledge over time. On top of this, embedded insurance partnerships often feature stronger compliance and quality assurance measures, ensuring that the insurance offerings align with regulatory standards and maintain high quality. This approach not only safeguards the carriers' reputation but also instills greater trust among their customers.

Embedded auto insurance is transforming the way consumers, dealerships, and insurance carriers interact with insurance products in the automotive industry. Through its streamlined approach, embedded insurance offers consumers a convenient and personalized insurance purchasing experience, providing immediate protection and potential cost savings. For dealerships, embedded auto insurance enhances their value proposition, increases customer loyalty, and opens up additional revenue streams. Insurance carriers benefit from expanded customer reach, improved customer experience, and data-driven risk management. As embedded auto insurance continues to evolve, it presents a promising future for all stakeholders involved in the auto insurance ecosystem.
*Based on 31,447 vehicle transactions between July 2019 and February 2021, comparing deals in which car buyer purchased insurance from Polly to non-Polly deals.